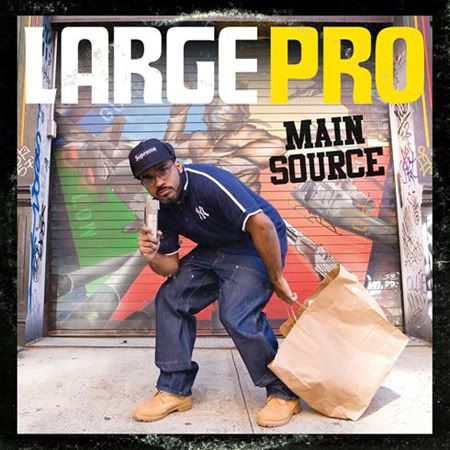 This past weekend I had the chance to sit down in Flushing Meadows Park in Queens with legendary producer and emcee, Large Professor.
Getting things started with his crew, Main Source -- which featured Toronto DJs K-Cut and Sir Scratch, and also emcee Mikey D -- the group dropped the classic album, "Breaking Atoms" in 1991. The album featured the funky and chart topping single "Looking at the front Door", and other conscious tracks like "A Friendly game of Baseball", "Just Hanging Out", and "Watch Roger Do His Thing".
From there Large P went on to be the man behind some classic rap albums and artists such as Common, Nas, Kool G Rap, and a Tribe Called Quest. Also keeping it local building hard hitting beats with fellow Queens emcees AZ, Cormega and Mobb Deep.
After dropping the single and video for 'Ijuswannachill' which was supposed to be on his first solo record "The LP", that was never released but earned some serious buzz. LP went on to sign with Matador records to drop the full length album "1st class" in 2002.
So after world tours, nightly DJ gigs and the very popular instrumental albums Large Professor Beatz Vol 1 and 2, whats up with Large Professor?

Josh D: Peace Large P. Tell us about your new album Main Source, how that came to be, the inspiration for the album and some of the artists and producers you worked with.

Large Pro: Main Source is the latest album that I have out right now, I'm just trying to reinstate what real Hip-Hop is, the boom bap, you what I'm saying, the colorful loops and things like that. Some of the dudes I worked with on this are true boom bap hip hop pioneers Jeru the Damaja Big Noyd, Mobb Deep, Lil' Dap of the Grouphome, Mikey D, he's a park originator, my dude Lotto on there, these are dudes that grab the mic in the park, so its all real hip hop.
I also got Marco Polo who produced a real banger "Hard Core Hip Hop", other than that I handled all the production myself. Oh and my man Professor KB hooked me up with some keyboards though.




JD: And what made you want to stick with the real hip hop, instead of adding a more commercial sound..

LP: There a lot of people out there right now that are trying all this different things, and styles that the industry is starting to look for. But that's not why I got into this for, I got into this for the original love of Hip-Hop and that's what I want to stick with.

JD: Are there any artists or producers you would like to work with in the future?

LP: The LOX is ill, Corey Gunz, Tanya Morgan, really anybody trying to rep that real Hip Hop, that boom bap.

JD: Tell me about your first pair of sneakers, or a pair of sneakers that made you love sneakers, and what is your collection like?

LP: Karim Abdul Jabar Adidas that had his face on the tongue, and after that is was on! Now i have about 70 pairs, some of them is classic joints that i don't wear any more, I just collect em' throw the boxes in there.[Closet]


JD: DJing and producing has taken you around the world is there anywhere that you were surprised at the sneakers?

LP: Japan! and Germany is ill because it holds down the original funky kicks, you see the funky kicks out there,the original b-boy kicks.




JD: What do you do to keep your style fresh, without being too trendy, and where do you go for your gear?

LP: I just go to the original places, I stick to the original receipt, man you know throw on some high tops some of the original colors, some of the color these days are hot if you can get some something to match with it. But you always good with a green or baby blue, or burgundy, you know a shade out of the norm, is always good money. Black on black is always funky, that's original b-boy styles, so I stick to those.
Sometimes I go out of the norm, and get some real colorful, crazy illness going on, mostly I stick to the classics.

JD: How do you feel about Hip-Hop right now and where do you see it going?

LP: Hip-Hop right now is still good, because we have the original Essene of what hip hop is about is getting crazy because it becoming more industrialized, making it harder for new people to differentiate what the original Hip-Hop is and whats all this new stuff is. I'm one of the original dudes who came from where all this originally came from, and I always try to uphold that.
Where is going.. No one knows because its been industrialized, but the foundation is still strong.

Large Pro's new album is a testament to classic boom bap rap music and from front to back is is a solid album with track for everyone. The First single and very catchy "Hot, Sizzilin, Scorchin' Torchin' Blazin", will be sure to lodge itself in your head for a few days. With a song for the ladies with "Sewin Love" a bass heavy ode to the streets "In the Ghetto", and a shout out to Queens on "To the Meadows". Large Pro gets busy on "Frantic Bars" and gets even hyper with the help of Mickey D and Lotto on "Pump Ya Fist Like This".
Large Professor is a staple in the rap game and with the release adds to his long list of classic tracks. Don't sleep in "Main Source" for one second, this will most def. be in my top 5 albums of the year.